Shows 2022
Vaudeville - An All-Star Vintage Spectacle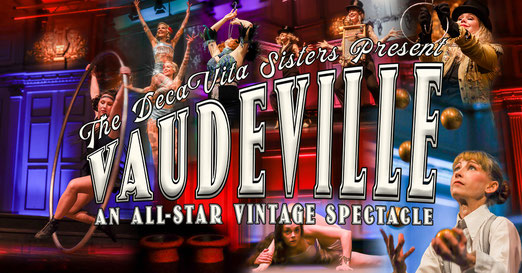 The DecaVita Sisters present Vaudeville. A 1920s style variety show deluxe starring some of Sweden's top female performers in their fields: Music, Magic, Charleston & Lindy Hop dance and Circus. Suitable for the whole family!
MUSIKALISKA KVARTERET - STORA SCENEN, SÖNDAG 11 DECEMBER 2022 kl. 18.00 
En hejdundrande och helt igenom kvinnlig 1920-tals varieté fylld av förstklassig Dans, Magi, Cirkus, Komedi and All That Jazz! Allt under ledning av världsstjärnorna inom Lindy Hop och Charleston - The DecaVita Sisters.
Vaudeville - An All-Star Vintage Spectacle, har under våren spelat för utsålda salonger och är nu tillbaka! Även denna gång på det anrika palatset Musikaliska Kvarteret och nu med en extra sprakande och glamorös vinterföreställning, Vaudeville - JULSHOWEN! 
Showen börjar klockan 18.00 men vill ni starta kvällen tidigare så kommer det att bli mingel med bubbel och jazz redan från klockan 16.30. Kom och umgås och drick en tredjeadvents-drink i den praktfulla entrén och Foajébaren som håller öppet fram till 01. Det går utmärkt att ta med sig en drink in på föreställningen också 
.
Som ni hör blir detta en spektakulär afton som ni för allt i världen inte vill missa! Vi ses den 11:e december då Stora Scenen intas av glittrande konster, 1922 fast 2022, är ni redo?
Biljetter finns att köpa online på:
TICKSTER
Speltid:
70 minuter
Här köper du biljett!
🎩26-27 Mars 2022, Teater Tre Stockholm 
BILJETTER:kulturbiljetter.se/evenemang/5369/vaudeville SOLD OUT!
🎩26 Juli 2022, Parkteatern Stockholm
🎩10 September 2022, Musikaliska Kvarteret Stockholm 
BILJETTER: musikaliskakvarteret.se/spelningar/vaudeville
🎩9 November 2022, Nyköpings Teater  
BILJETTER: www.tickster.com/sv/events/t3blg4nzm44wu5r/2022-11-09/vaudeville-an-all-star-vintage-spectacle
🎩4 December 2022, Thor Modéen Teatern, Kungsör 
🎩11 December 2022, Musikaliska Kvarteret, Nybrokajen Stockholm 
BILJETTER:https://secure.tickster.com/sv/3ktcnkx68n8328z/seating
🎩10 Februari 2023, Vallentuna Teater, Vallentuna
🎩1 April 2023, Gävle Teater, Gävle 
🎩30 September 2023, Jönköping Teater, Jönköping
Past Shows
Party of The Century

World class entertainer, Frank Martini and His Orchestra and the extraordinary dancers, The DecaVita Sisters, have gained immense popularity for their energetic jazz age shows, at Grand Venues all around Sweden.
In just one year they have sold out Nalen, Grand Hôtel and Café Opera in Stockholm, Stadshuset in Sundsvall and Aktivitetsfabriken in Hudiksvall just to name a few.
"It's elegant, exciting and so much fun"
"Scandinavias No.1 Gatsby show".
So let the champagne flow, dance like there's no tomorrow and get lost in the night, the beauty around you and the music of the Roaring Twenties!
Public Tour Schedule 2021:
8 October, Umeå Sweden
9 October, Sundsvall Sweden
15 October, Helsingborg Sweden
16 October Odd Fellow Palaet, Copenhagen Denmark
22 October Stora Hotellet, Jönköping Sweden
23 October Valand, Gothenburg Sweden
30 October, Berns, Stockholm Sweden 
31 December, Näsby Slott, Stockholm Sweden
Click on the posters to read more about the shows!