Shower 2023
Vaudeville - An All-Star Vintage Spectacle
The DecaVita Sisters present Vaudeville. A 1920s style variety show deluxe starring some of Sweden's top female performers in their fields: Music, Magic, Charleston & Lindy Hop dance and Circus. Suitable for the whole family!
SCALATEATERN - STORA SCENEN, SÖNDAG 3 DECEMBER 2023 kl. 19.00 
En hejdundrande och helt igenom kvinnlig 1920-tals varieté fylld av förstklassig Dans, Cirkus, Magi, Komedi and All That Jazz! Allt under ledning av världsstjärnorna inom Lindy Hop och Charleston - The DecaVita Sisters.
Vaudeville - An All-Star Vintage Spectacle, har under året spelat för utsålda salonger och är nu tillbaka! Även denna gång på den anrika Scalateatern i Stockholm och nu med en extra sprakande och glamorös vinterföreställning, Vaudeville - JULSHOWEN! 
Showen börjar klockan 19.00 men vill ni starta kvällen tidigare så kommer det att bli mingel med bubbel och jazz i den vackra foajébaren redan från klockan 18.00 
.
Som ni hör blir detta en spektakulär afton som ni för allt i världen inte vill missa! Vi ses den 3:e december då Stora Scenen intas av glittrande konster à la 1923, fast 2023, är ni redo?
Speltid:
70 minuter, ingen paus 
Här köper du biljett!
www.scalateatern.se/forestallning/vaudeville-julshowen
Turnéschema:
🎩26-27 Mars 2022, Teater Tre Stockholm 
🎩26 Juli 2022, Parkteatern Stockholm
🎩10 September 2022, Musikaliska Kvarteret Stockholm 
🎩9 November 2022, Nyköpings Teater  
🎩4 December 2022, Thor Modéen Teatern, Kungsör 
🎩11 December 2022, JULSHOWEN! Musikaliska Kvarteret, Nybrokajen Stockholm 
🎩10 Februari 2023, Vallentuna Teater, Vallentuna
🎩1 April 2023, Gävle Teater, Gävle 
🎩7 April 2023, PÅSKSHOWEN! Scalateatern, Stockholm 
🎩11 Augusti 2023, Malmöfestivalen, Malmö
🎩17 September 2023, Västerviks Teater, Västervik 
🎩22 September 2023, Regina Teatern, Uppsala
🎩3 December 2023, JULSHOWEN! Scalateatern, Stockholm
🎩10 December 2023, Nyköpings Teater, Nyköping
🎩12 December 2023, Jönköpings Teater, Jönköping
🎩26 Januari 2024, Söderhamns Teater, Söderhamn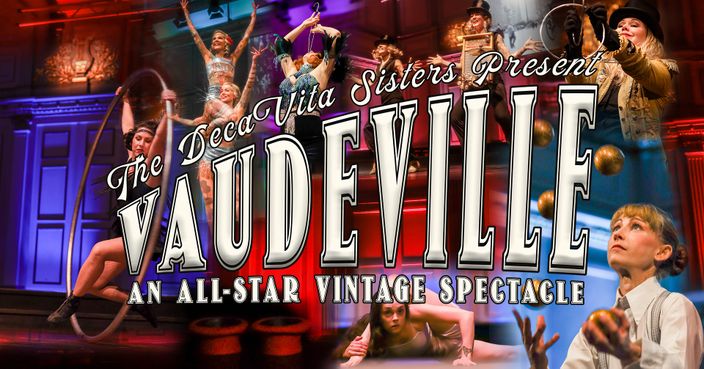 The Flapper Dapper Show
Ett 1920-tals dans och cabaret äventyr för barn och vuxna!
A 1920s Dance And Cabaret Adventure For Both You And Old!
Welcome to "The Flapper Dapper Show," starring the incredible DecaVita Sisters from Sweden! Get ready for a magical trip back to the roaring 1920s, where the fun never stops! Join Charlie and Rebecka as they dance the Charleston and Lindy Hop with dazzling moves that will make you want to twirl and tap along. It's like a happy dance party, and you're invited! But that's not all the excitement. Watch closely as they perform mind-blowing magic tricks and fill the air with jazzy melodies that will make your heart sing along too. So grab your best dress or snazzy bowtie and join us for an evening full of laughter, dance, magic, and sisterly joy that will make you feel all warm and fuzzy inside. This is a show that the whole family can enjoy together as it wows young and old!  
Running-time 50 minutes
The show is recommended for everyone between 5 to 105 years
Tidigare shower