Crystal Club
Welcome to a dazzling swing dance show with a roaring '20s flair! At the Crystal Club you will meet crazy flapper girls, passionate blues dancers, high flying Lindy Hoppers and a tipsy tap dancer, everything presented by our own sassy songbird Miss Madeline. An authentic, classy and humorous dance show for all jazz and swing lovers!
**** "The dance is top shelf... Miss Madeline has a voice to die for"
- Peter Burdon, The Advertiser
**** "Their routines are original, superbly polished, with astonishing split-second timing and humour"
**** "The flapper dresses and fine suits were marvellous but nothing could distract from the exceptional skill the ensemble have. All three members were in complete command of the space, were able to pull some somewhat highly complex moves and entertain without much apparent effort"
- Simon Lancione, Glam Adelaide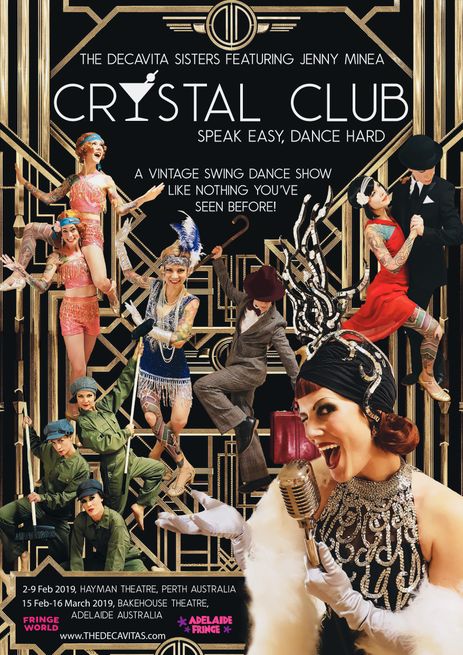 Running time:
50 minutes
Tour schedule 2019:
2-9 February, Perth Australia
18 February - 16 March, Adelaide Australia
PERTH
Stage:
The Hayman Theatre, Perth Australia
Curtin University, building 302 Kent St, Bentley WA 6102, Australia
Time:
2, 4, 5, 6 February at 19.30 (7.30PM)
7, 8, 9 February at 18.00 (6.00PM)
Tickets:
$25 Incl. booking fee

https://fringeworld.com.au/whats_on/crystal-club-fw2019?venue=623%3A23

FRINGE WORLD
ADELAIDE
Stage:
The Bakehouse Theatre, Adelaide Australia
255 Angas Street, Adelaide, South Australia 5000, Australia
Time:
18 February - 23 February at 21.00 (9.00PM)
4 March - 9 March at 21.00 (9.00PM)
11 March - 16 March at 21.00 (9.00PM)
Tickets:
$25 Incl. booking fee
https://adelaidefringe.com.au/fringetix/crystal-club-af2019?venue=166%3A7

ADELAIDE FRINGE FESTIVAL
1300 621 255