The DecaVita Sisters
Charlie and Rebecka are performers, choreographers and instructors of Lindy Hop, Charleston and other vintage swing dances. They are hailing from Stockholm Sweden but teach and perform all over the world.
Please contact us if you would like to book a workshop, private class, show or performance! We answer all messages within 48 hours.
decavita(at)gmail.com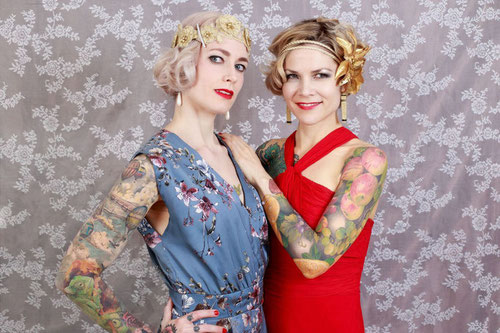 About Us
Charlie and Rebecka, a.k.a The DecaVitas, or the DecaVita Sisters, are world-renowned dancers specializing in authentic Swing and Jazz Age dances. They have been teaching, performing and competing together since 2006 and are today among the top names in the international Swing Dance scene. Charlie and Rebecka are hailing from Stockholm, Sweden but they spend a lot of time on the road and have worked on six continents in more than 25 countries. The DecaVitas have won several major competitions, are founders of performance troups in both Sweden and the US and have many years of experience in coaching and choreographing group routines. Together they are known for their dynamic, creative and unique dance style. As two of the most liked and yearned for Charleston and Lindy Hop instructors world wide, Charlie and Rebecka strive to teach great technique in a way that is positive, coherent and productive. They particularly value the art of leading and following, believing that leaders and followers require equal amount of information in the classroom to create the best possible connection on the dance floor. 
In 2016 The DecaVitas entered a new era in their lives as professional dancers. Charlie and Rebecka decided to focus more on performance and the artistic aspect of the dances that they love and they decided to stop competing. In 2018 they produced their first full length show Ritz Hotel, followed by the award winning show Crystal Club in 2019, Alice In Vintageland in 2021 and Vaudeville - An All-Star Vintage Spectacle in 2022. The DecaVita Sisters are constantly learning, creating and developing their dance with endless curiosity and conviction that there is more to be discovered!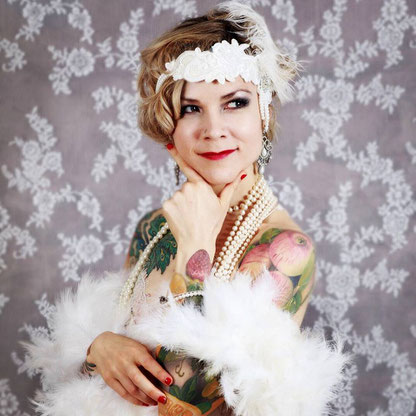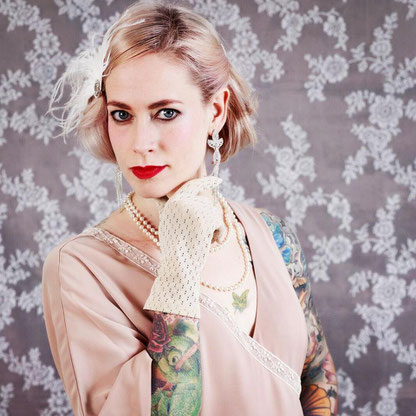 Vaudeville - An All-Star Vintage Specatacle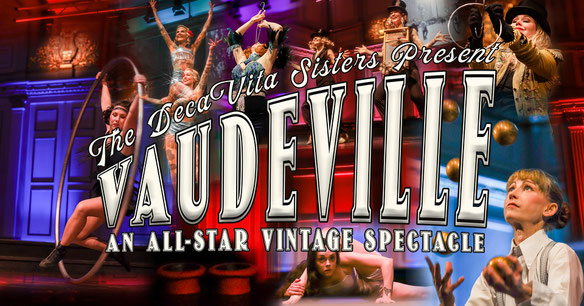 The DecaVita Sisters present Vaudeville. A 1920s style variety show deluxe starring some of Sweden's top female performers in their fields: Music, Magic, Charleston & Lindy Hop dance and Circus. Suitable for the whole family!
La Belle Parade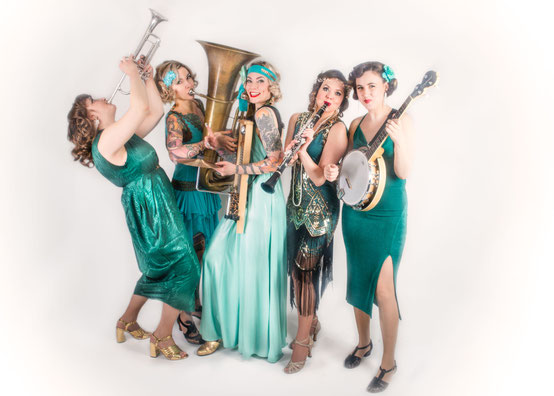 La Belle Parade is an all-female Jazz band that plays New Orleans Jazz from the early 1920s with elements from classic Old Hollywood movies. As two of the band's members are among some of the world's best Charleston dancers, they often surprise with a couple of fast-paced dance numbers during a show. La Belle Parade always offers a musical and aesthetic time travel of the glamorous kind.
Classes
Group Classes
We teach and perform at dance festivals and other swing events all over the world! Our dance repertoire includes Lindy Hop, Partner Charleston, 1920s Solo Charleston, Slow Lindy/Blues, Collegiate Shag, Authentic Jazz, Aerials and Tricks. 
Private Classes
If you want to improve faster, we offer private classes where you can focus on a specific issue and get technical, styling and creativity advice. Unlike group classes, private classes give you the opportunity to spend as much time as you want and need on each move or concept. You may take private lessons with a partner or alone. Contact us for rates!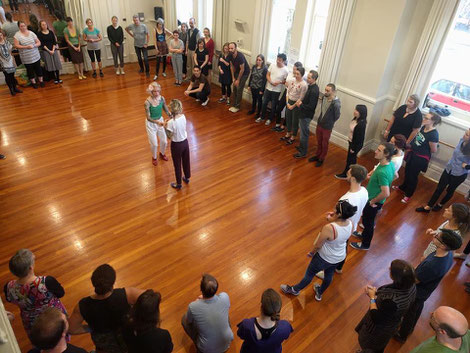 Competition Titles
1st place - Camp Jitterbug 2016 (Showcase), Seattle US
3rd place - Camp Jitterbug 2016 (Strictly Lindy), Seattle US
2nd place - Canadian Swing Championships 2016 (Strictly Lindy), Montreal Canada
3rd place - Canadian Swing Championships 2016 (Showcase), Montreal Canada
3rd place - Ultimate Lindy Hop Showdown Battle 2015, New Orleans US
Finalists - Camp Hollywood 2015 (Collegiate Shag), Los Angeles US
Finalists - Camp Hollywood 2015 (Strictly Lindy), Los Angeles US
1st place - Montreal Swing Riot 2015 (Couples Battle), Montreal Canada
3rd place - Montreal Swing Riot 2015 (Showcase), Montreal Canada
Finalists - Montreal Swing Riot 2015 (Advanced J n J), Montreal Canada
3rd place - Camp Jitterbug 2015 (J n J), Seattle US (Rebecka w Amanda Marchand)
Finalists - Camp Jitterbug 2015 (Strictly Lindy), Seattle US
4th place - Camp Hollywood 2014 (Strictly Lindy), Los Angeles US
4th place - Camp Hollywood 2014 (Classic Lindy), Los Angeles US
Finalist - Camp Hollywood 2014 (Advanced J n J), Los Angeles US (Rebecka w Heather Ballew)
Finalist - Camp Hollywood 2014 (Advanced J n J), Los Angeles US (Charlie w Stephen Sayer)
Finalists - International Lindy Hop Championships 2014 (All Star Strictly), Washingon DC US
3rd place - Beantown Camp 2014 (Strictly), Boston US
3rd place - Camp Jitterbug 2014 (J n J), Seattle US (Charlie w Soochan Lee)
4th place Camp Jitterbug 2014 (Strictly), Seattle US
3rd place - Hellzapoppin' Competition, Frankie100 2014, New York City US
2nd place - Canadian Swing Championships 2014 (Showcase), Montreal Canada
2nd place - Canadian Swing Championships 2014  (Strictly Lindy), Montreal Canada
Finalists - Canadian Swing Championships 2014 (Strictly Balboa), Montreal Canada (Charlie w Freddie Karlbom)
Finalists - Canadian Swing Championships 2014 (J n J Big Money), Montreal Canada
3rd place - Snowball 2013 (Showcase), Stockholm Sweden
Finalist - Snowball 2012 (J n J), Stockholm Sweden (Charlie)
1st place - Nevermore Jazz Ball 2012, S:t Louis US (Rebecka w Miranda Longaker)
3rd place - Nevermore Jazz Ball 2012, S:t Louis US (Charlie) 
3rd place - Ultimate Lindy Hop Showdown Battle 2012, New Orleans US
Finalists - Rhythm City Mess Around 2012, Vancouver Canada
2nd place - Herräng Battle 2012, Herräng Sweden
Finalists - European Swing Dance Championships 2012 (Open Strictly), Barcelona Spain
1st place - Stockholm Open 2012, Stockholm Sweden (Charlie w Fredrik Dahlberg) 
1st place - Midwest Lindy Fest 2011 (Strictly Lindy), Minneapolis US
1st place - Midwest Lindy Fest 2011 (J n J), Minneapolis US (Charlie w Andrew Hsi)
1st place - Lindy Bout 2011 - The Lindy Hop Championships in Western Canada (Strictly), Vancouver Canada
1st place - Lindy Bout 2011 - The Lindy Hop Championships in Western Canada (Showcase), Vancouver Canada
1st place - Lindy Bout 2011 - The Lindy Hop Championships in Western Canada (Slow), Vancouver Canada
2nd place - Lindy Bout 2011 - The Lindy Hop Championships in Western Canada (Strictly Balboa), Vancouver Canada (Charlie)
3rd place - Crazy Rhythm Challenge 2010, Toulouse France
1st place Stockholm Open 2010 (Charlie) 
Finalists - Ultimate Lindy Hop Showdown 2010, New Orleans US
Finalist - Snowball 2010, Stockholm Sweden (Charlie w Andreas Olsson)
1st place - The Harvest Moon Ball at The Killer Diller Weekend 2009, Seattle US
Finalists - Ultimate Lindy Hop Showdown 2009, New Orleans US 
Finalists - The Battle at Jazz Jam 2009, Stockholm Sweden 
1st place Stockholm Open 2009 (Rebecka)
1st place - Sweden Balboa Weekend 2008, Stockholm Sweden (Charlie)
3rd place - Sweden Balboa Weekend 2007, Uppsala Sweden (Charlie)
Dance Festivals
Some of the bigger international dance festivals that The DecaVitas have headlined:
• Rockin' In Rhythm, Singapore 
• Midwinter Swing Festival, Dunedin New Zealand     
• Queensland Swing Festival, Brisbane Australia
• Camp Jitterbug, Seattle USA
• LHAIF, Lindy Hop Argentina Festival, Buenos Aires Argentina  
• Beantown Camp, Boston USA
• Tokyo Lindy Hop Festival, Tokyo Japan  
• Spring Fling, Edmonton Canada    
• Osaka Swing, Osaka Japan
• Hepcat´s Fever, Sao Paulo, Brasil
• Lindy Academy, London UK 
• Camp Hollywood, Los Angeles USA 
• YYC Flight Jam, Calgary Canada 
• Rennesbow Swing Festival, Rennes France 
• Ritz Winter Hop, Vaasa Finland      
• Dragon Swing, Krakow Poland     
• Bristol Swing Festival, Bristol UK     
• Lindy On Track, Krakow Poland     
• Goodnight Sweetheart International Swing Dance Camp, Hertfordshire UK
• Hanse Hop, Hamburg Germany     
• The Lindy Club, London UK          
• Halloween Swing Camp, Stockholm Sweden     
• HepCat Lindy Hop Weekend, Malmö Sweden     
• Calpe Swing Fiesta, Calpe Spain              
• Festiv'alan Swing, Toulouse France            
• Säntis Hop, Teufen Switzerland        
• 600 Minutes of Swing, St Andrews UK 
• Black Forest Hop, Freiburg Germany          
• University Of Swing, Edinburgh UK          
• Crazy Swing Camp, Belgium 
• Malmö Spring Jump, Malmö Sweden      
• Winter Swing Weekend, Edinburgh UK   
• Swing Around The Clock, Geneva Switzerland     
• Hullzapoppin', Hull UK          
• Spring Out, Hannover Germany        
• Swing Revolution, Leeds UK          
• University of Swing, Edinburgh UK        
• U Town Swing Camp, Uppsala Sweden     
• Footloose Swing Fest, Alicante Spain
• Swing Ohne Senf, St Gallen Switzerland
• Swing Around The Clock, Geneva Switzerland     
• Sideways, Lucerne Switzerland        
• Oxford Swing Festival, Oxford UK              
• Lindy in the Sky, Liverpool UK     
• Another Lindy Hop Festival (ALF), Trondheim Norway        
• Swing Sanctuary, Cambridge UK          
• Swing Dom, Utrecht Netherlands 
• Festival Solo Jazz, Córdoba Spain